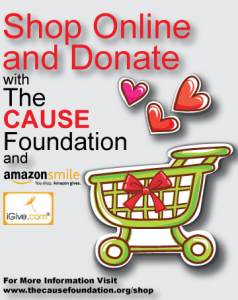 It's beginning to look a lot like the holidays and what happens during the holiday season? We shop!
Whether you are shopping for the holidays or just buying yourself a new outfit, make sure you place your online order next time through Amazon Smile or iGive. Directing your online purchase through one of these sites the CAUSE Foundation will receive donations each and every time you purchase something online. In other words, while you shop and spend money, you are helping the CAUSE Foundation too.
Amazon Smile


Here's what you'll need to do when you order anything from Amazon.
Visit www.smile.amazon.com
Register The CAUSE Foundation as your charity (you'll need to scroll down the list. The CAUSE Foundation is the one listed in Parker, CO)
Instead of going to Amazon.com go to smile.amazon.com whenever you are shopping on Amazon.
The website is exactly the same and the prices are exactly the same. Only difference is a portion of your purchase will go to The CAUSE Foundation.
iGive
Shopping via iGive is essentially a store rebate program where iGive members have the opportunity to donate their rebate to their chosen cause. iGive receives compensation beyond the posted donation amounts, and many stores pay to advertise on our site. When iGive members shop via iGive special links, an "iGive Cookie" is assigned to your browser. This tells the store, "Here is an iGive Member" using a meaningless member ID number. The store reports back with this number and the amounts for the donation to your cause. iGive never have access to any payment information.
Click the iGive logo below to be directed to the CAUSE Foundation special link