Pundefined 21, 2020lease watch this testimonial video and donate now to enable us to continue to assist United Flight Attendants.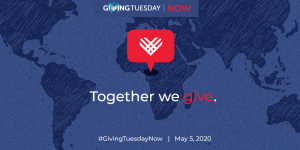 I hope

everyone Is staying safe and sane!

Tuesday, May 5th has been designated as Giving Tuesday Now.  With that in mind, I'm asking you to please consider making a donation to The CAUSE Foundation but, only if you can afford it!

With over 10,000 Flight Attendants currently on leave, this will greatly diminish our monthly payroll donations.  Our need has not changed but our ability to help Flight Attendants in need will!

Please consider making your monthly donation in one of three ways…..

1) Go to our website; www.thecausefoundation.org and click on donate

2) Through PayPal; PayPal.me/thecausefoundation

3) Send a check to our office in Colorado;

The CAUSE Foundation
21432 E. Stroll Avenue
Parker, CO 80134

We have weathered many storms since our inception in 1994, this is all due to your continued support!  Please stay safe and know The CAUSE Foundation is so appreciative of all you have done and continue to do to help Flight Attendants in need!
Please click the link below to read a message from our President, Kathy Ochenrider.
Win  1  of  5  paid  trip  drops!


2019 Board of Directors Meeting

Since it's inception,The CAUSE Foundation® has helped more than 1,000 United Airlines Flight Attendants.  The grants awarded during that time equal more than 5.2 million dollars, donated by United Flight Attendants.  We have written $45,000 in scholarships and donated $40,000 in research grants to other 501(c)3's.  Special fundraising generated more than $77,000 to aid the families of the UA Flight Attendants lost on September 11, 2001.  CAUSE has donated $7,500 to the AFA Relief Fund in order to help the UA Flight Attendants affected by the earthquake in Japan and Hurricane Sandy on the eastern coast of the United States.
Our administrative costs are only 7%!
The CAUSE Foundation® is a not-for-profit organization founded in 1994 by Monica Leonard, a currently retired United Airlines Flight Attendant. Funds are distributed through an application process to United Airlines Flight Attendants who are unable to work due to injury, illness or disability. This grant is intended as a short-term bridge until other financial arrangements are in place and covers only basic living expenses.
CAUSE also administers The CAUSE Foundation®/Berni Schafer Memorial Scholarship which benefits the children of deceased United Airlines Flight Attendants in their pursuit of higher education.
CAUSE is an acronym standing for Concerned Attendants for a United Support Effort.