Welcome to the London CAUSE Foundation
Hello from Marion in London…..
LHRSW raised 962 Dollar total for Thanksgiving and Pink Pins in October for breast cancer awareness.
All the support is so much appreciated.
Happy landings for 2020!
MY BIGGEST WISH :
Currently it is only about half the base that is signed up for paycheck donations and it would be pure magic if LHRSW could end up being the highest percentage of donators. Please see the picture below which shows you how to sign up. Even if it is just a dollar or two a pay cheque.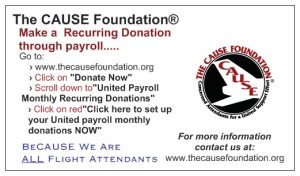 We do benefit from this fantastic FOUNDATION in LHRSW.
It would also be wonderful if we all were signed up to get the newsletter. Please private messenger me your email if you would like to be added.
Thank you for reading and supporting
HAPPY LANDINGS ALWAYS
————————————
LHRSW raised $512 selling pink pins in October!
LONDON CAUSE REP
Additional Resources for London Flight Attendants
No other resources at this time