Welcome to the Denver CAUSE Foundation Page
Let's keep Flight Attendants helping Flight Attendants!
Denver is going to have a craft fair on December 10th.  We'll be in Inflight from 9am-5pm.  The coordinators will be selling scarves…both red and blue plus ties.   Hope you'll join us!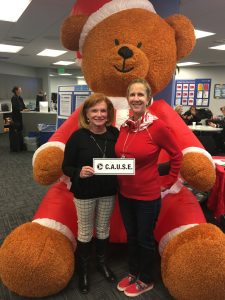 DENVER CAUSE REPS

Anita Wurst
emailME
If you would like to volunteer or if you need to apply for assistance, please contact CAUSE at (303) 805-9036.
Additional Resources for Denver Flight Attendants
Supplemental Security Income (SST)
Apply by telephone
800-772-1213
Colorado Disability Determination Services
2530 S. Parker Rd. Aurora, CO 80014-1541
1-303-368-4100
Vicki Johnson-Director
Arapahoe County Dept. of Human Services
14980 E. Alameda Dr.Aurora, Co 80012
303-636-1130
Douglas Cty Dept. of Health and Human Services
4400 Castleton Ct.Castle Rock, Co 80109-78404
303-660-7379
Aurora Family Assistance Center
303-363-9543
Interchurch Task Force
303-360-0260 Emergency food and clothing. Utility and rent assistance etc
Inter-Faith Task Force (Aurora)
303-789-0501 Emergency food and clothing. Utility and rent assistance etc
UTILITIES
Energy assistance
Adams Cty
303-227-2378
Denver Cty
720-944-1878
Arapahoe Cty
303-636-1130
Jefferson Cty
303-271-1388
Food Stamps
Adams Cty
303-227-2350
Douglas Cty
303-688-4825
ArapahoeCty
303-636-1130
(Aurora)
303-734-4300
(Littleton)Jefferson Cty
303-271-4339
Denver Cty
720-944-1628
Consumer Credit Counseling-Housing
303-632-2100
Property Tax Deferral
Adams Cty
303-654-6160
Douglas Cty
303-660-7450
Arapahoe Cty
303-795-4550
Jefferson Cty
303-271-8330
Denver Cty
720-865-7007