Hey pre merger Continental Flight Attendants We Want to Help You!
GREAT NEWS, GREAT NEWS!  The CAUSE Foundation is now officially able to help our pre merger CAL Flight Attendants!
I AM HAPPY TO EXTEND A BIG THANK YOU TO OUR FRIENDS AT  pre-merger UA AFA COUNCIL 9 IN DENVER!  Because of their kindness and generosity in donating $5000 to our pre-merger CAL seed fund. Their donation is from the Denver C.A.R.E. fund.  We are now able to start assisting the pre-merger CAL Flight Attendants on a limited basis.  We have been able to assist our first Flight Attendant based in EWR.  We are very proud to be able to help!
 Please remember that CAUSE is a non-profit 501 (c)3 foundation and is all about Flight Attendants helping Flight Attendants. We are able to assist f/a's during times of illness, injury and disability.   WE NEED YOUR HELP, to continue to maintain a minimum of $10,000 in the fund.  You may donate through our web site at TheCauseFoundation.org or by sending a check to The CAUSE Foundation P.O. Box 550 Parker, CO 80134.
AGAIN, A VERY HEARTFELT THANK YOU TO AFA COUNCIL 9 IN DENVER!  YOU HELPED MAKE THIS HAPPEN!!!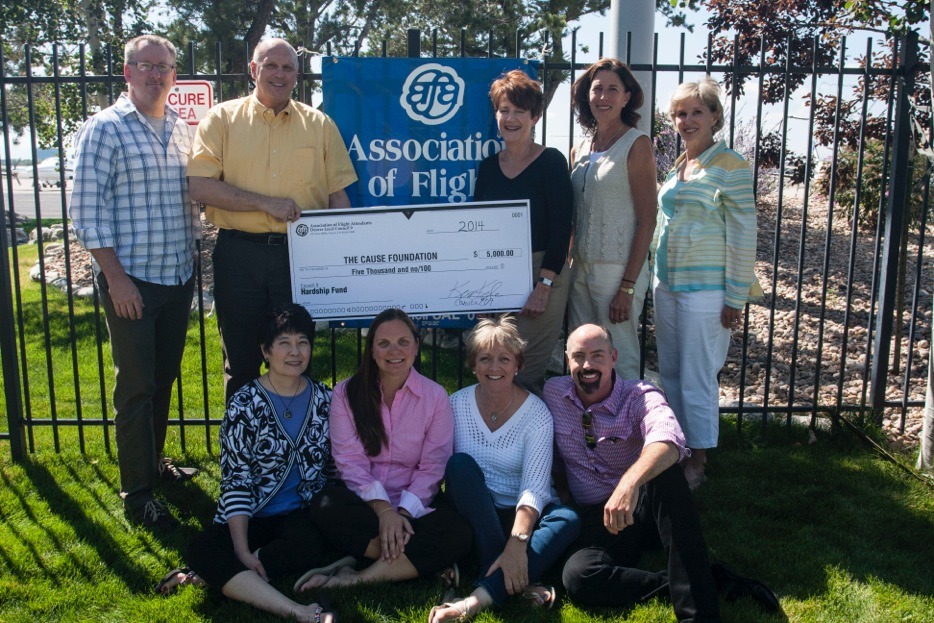 Standing: L-R  Chris Bruton, Ken Kyle, Katie George, Angie Trujillo, Bev Van Zandt
Sitting:     L-R  Jan Ogawa, Heidi Delaney, Theresa Siegmund, Zach Peirce